Intelligence and insights for the smart-home industry
March 2022
Welcome to Plume IQ, our monthly reveal of data-driven intelligence and customer-focused insights from more than 2.1 billion connected devices, and over 44 million locations, managed in the Plume Cloud.
Big screens dominated on big game day
From smartphones to tablets, our homes are awash with small screen video streaming devices—on Plume-powered home networks in the U.S., there are over 7,500 different kinds of smartphones alone. However, for American, it was big screen usage that dominated Super Bowl Sunday.
Compared to typical daily usage, the amount of data consumed by smart TVs on big game day increased significantly by 31%, with streaming set-top boxes up 20%, and smartphones only up 11%. At the brand level, Sony topped the charts for increased data usage of smart TVs and set-top boxes combined at 44%, followed by Samsung at 40%. Plume data certainly suggests that for key sporting events, TV is still about the big screen experience.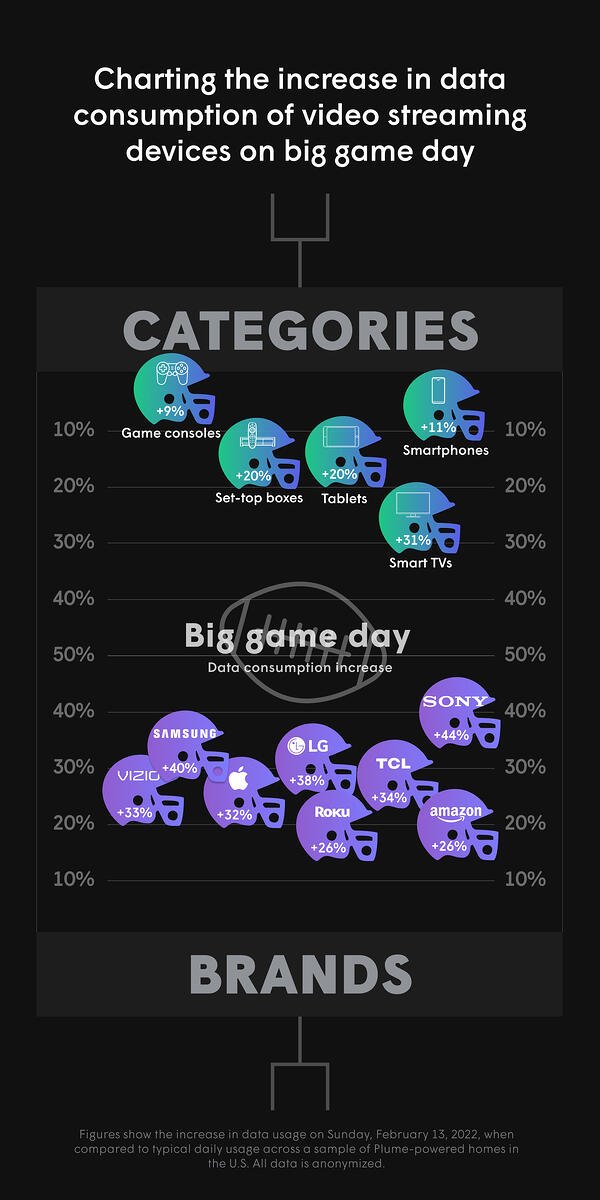 Other Plume news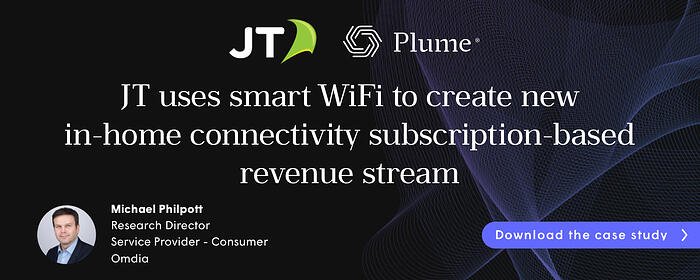 Boosting CX
Michael Philpott, **Research Director, Omdia **highlights how JT—the largest telecommunications operator in the Channel Islands—has partnered with Plume to boost customer experience, increase customer satisfaction ratings, and achieve a number one rating in the world for the speed of its fiber network. Download the case study >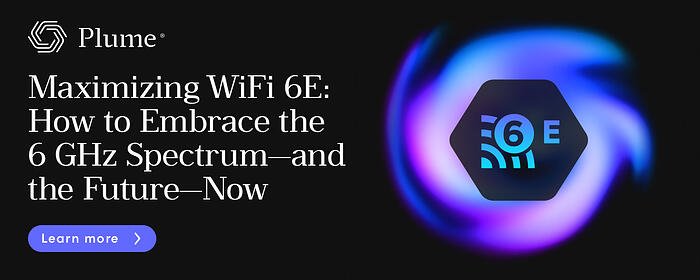 Addressing a common myth
When WiFi 6 first arrived, many thought it would eliminate the need for WiFi management. In reality, taking advantage of the power of WiFi 6 meant more management, not less. In our latest whitepaper, we highlight how CSPs can fully tap into the potential of the expanded 6GHz spectrum that WiFi 6E brings, by embracing agile, adaptive, cloud-, and AI-based management.
Learn more >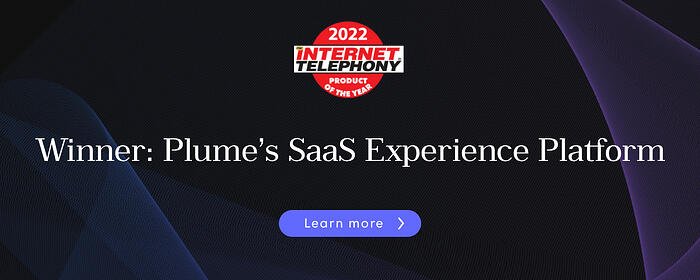 Winning ways
We're thrilled to be awarded Product of the Year in TMC's Internet Telephony Awards 2022! Rich Tehrani, CEO, TMC said: "The recipients represent leaders within the VoIP and IP Communications industries and have demonstrated innovation and excellence. We look forward to seeing their future successes and continued leadership driving new solutions for their customers."
Learn more >
Let's connect in Germany
Plume's Sr. Director of Business Development, Gregor Stegen keynotes at Connected Germany, where he'll be joined on stage by Deutsche Glasfaser's Armin Naraghi, who'll provide a strategic update on the rollout of cloud-managed WiFi services, powered by Plume and OpenSync. Additionally, Plume's experts will be on hand to provide exclusive product demos.
Learn more >

News round up
Wi-Fi NOW's Claus Hetting reports on how Plume is helping Ukrainian refugees to reconnect with family and friends through WiFi, and is seeking Service Providers to join its support program.
Read the article >
Plume's VP of Customer Solutions Adam Hotchkiss gave his take on the Matter initiative during an interview with Axios , including how the industry can address fragmentation and onboarding issues.
Read the article >
At Light Reading's Cable Next-Gen Technologies & Strategies, Plume CTO Bill McFarland shared his views on why evolving WiFi generations heighten the need for cloud optimization.
Watch on demand >