Intelligence and insights for the smart-home industry
April 2022
Welcome to Plume IQ, our monthly reveal of data-driven intelligence and customer-focused insights from more than 2.1 billion connected devices, and over 44 million locations, managed in the Plume Cloud.
Who's winning the battle of the brands?
Brand loyalty is the Holy Grail for connected device makers as they look to lock consumers into their ecosystems. However, it's also a dynamic that's critically important for service providers to understand, enabling optimized sales and support around the most popular devices.
We can reveal that Apple is flying high as the undisputed brand leader in Plume-powered households in Europe—from data sampled through March 2022, 82% of homes had 1 or more Apple devices, compared to 77% for its nearest rival, Samsung. However, it's the highly devoted nature of Apple users that's wholly evident and where the gap starts to widen—a massive 45% of these homes had 5 Apple devices or more, with a staggering 25% of them with 10 Apple devices or more, that's 1.7 and 2.8 times more than Samsung.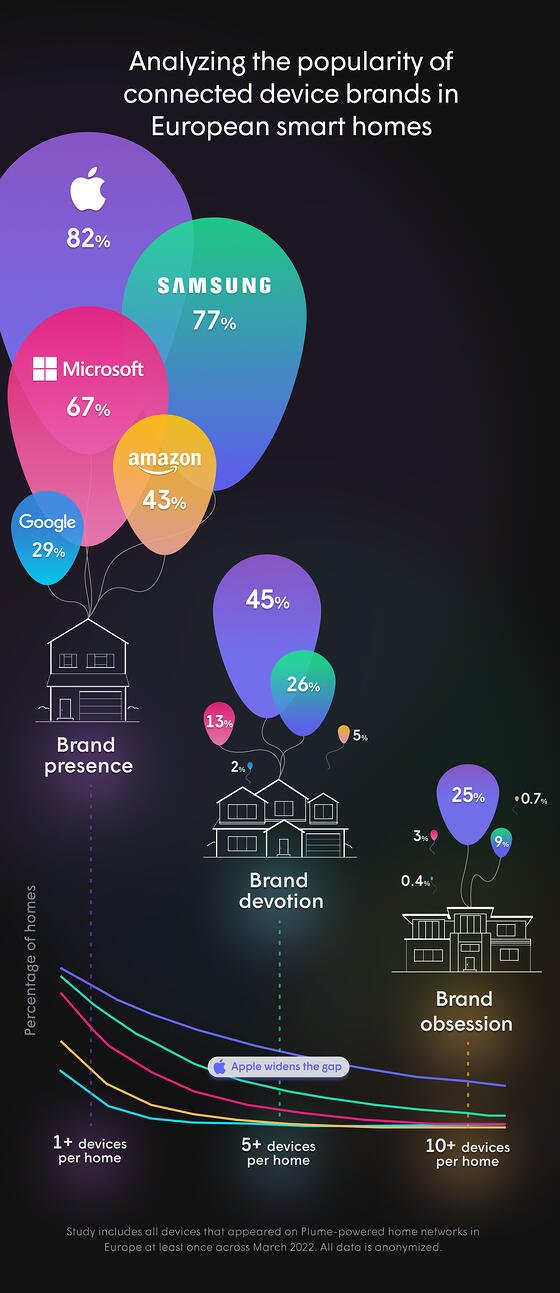 Other Plume news
Transformational experiences
Plume is now active in over 40 million locations worldwide! We're thankful to all our partners for their continued trust and support as we continue our journey together. As we surpass this key milestone, learn how we've helped a key partner and service provider Armstrong achieve stellar business results.
Download the case study >
Intelligent business
We're delighted to share the news that Breezeline —the eighth largest cable operator in the U.S., operating across 12 states—is the latest service provider to launch WorkPass. The WiFi Your Way service provides small business customers with AI-driven WiFi, intelligent network insights, enterprise-grade cyber-security, and more.
Read the press release >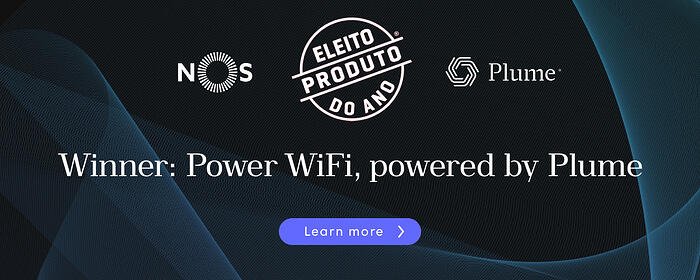 Winning partnership
We'd like to congratulate our partner and leading Portuguese service provider NOS for winning a highly coveted Product of the Year Award for the second year in a row! The judges highlighted that the Power WiFi, powered by Plume service optimizes for coverage, speed and security, and offers complete personalization through the HomePass app .
Learn more >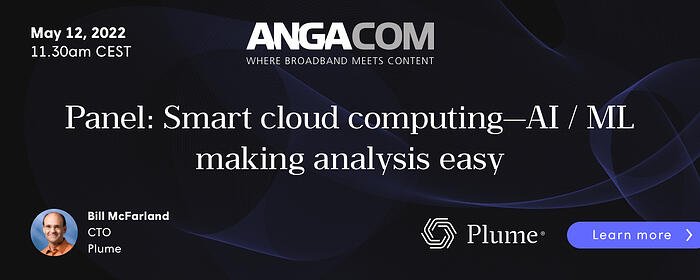 Countdown to Cologne
We're delighted to return to ANGA COM, May 10-12! Our CTO Bill McFarland will join an expert panel to discuss how service providers can unlock the true potential of WiFi through Cloud and AI. In addition, our technical experts will showcase our latest services designed to enhance CX and delight your subscribers in our private meeting suite #26.
Learn more >

News round up
Plume's VP of Customer Solutions, Adam Hotchkiss, gave his take on the future of smart homes to Axios's Jennifer A. Kingson, including how they might generate their own electricity.
Read the article >
Congratulations to our Founder & CEO Fahri Diner for his nomination to Cablefax's top 100 power players for 2022.
Learn more >
Inc.'s Joel Comm reported on the importance of cyber-security and leveraged some interesting data points from Plume-powered networks.
Read the article >